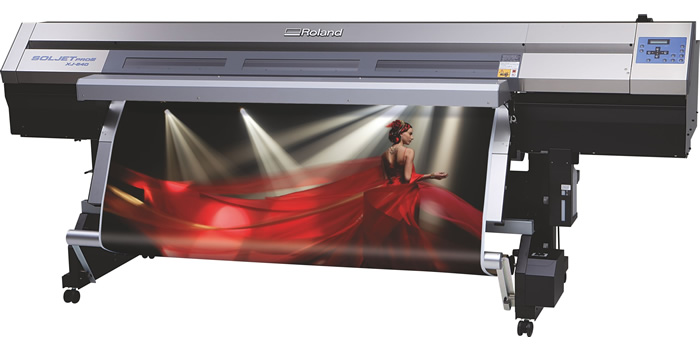 The talented artisans at eGenoa no doubt have the talent and skill to not only design gorgeous and eye-catching marketing displays, but the follow through of that vision is only possible due to the incredible tools which they have at their disposal. Just as an artist has his or her brushes, the designers at eGenoa have the workhorse of printers—the Roland Soljet Pro III XJ.
The Roland company has made it possible for numerous designers and artists to rise to the top of their fields by supplying them with a one-of-a-kind combination of results and durability. In the eGenoa factory it is the Roland Soljet Pro III XJ that pumps out everything from vinyl banners to vehicle wraps; large format printouts to banner stand visuals. This amazing printer is the "brush" with which the eGenoa artisans not only create their art, but the vinyl "canvas" the art requires.
The Roland Soljet Pro III XJ line can make even the largest images come to life as vibrant photorealistic works of art with its 1440 x 1440 dpi. The attention to detail that is possible gives you an even more beautiful way to reach your audience. And with its ability to churn out 458 sqft per hour, even rush jobs are possible without losing the high quality you have come to expect from Roland and eGenoa.
Some work we've done using the Roland Soljet Pro III XJ
As we roll into winter and your car needs to become the rolling billboard that literally drives sales, eGenoa and its Roland Soljet Pro III XJ will be able to produce the most amazing full-color vehicle wraps that can withstand the elements and continue to drive your marketing dollar day after day and mile after mile. Be sure you wrap that company vehicle before you head off to any of the major tradeshows coming up in January—including the Winter Fancy Food Show in San Francisco and the NAHB International Builders' Show in Las Vegas. Pull up in style and make a statement that you are there to compete for every client.
Many of the amazing products from eGenoa are only possible due to the fantastic Roland Soljet Pro III XJ. Contact the welcoming and friendly staff at eGenoa today to find out how the XJ can make your company money!