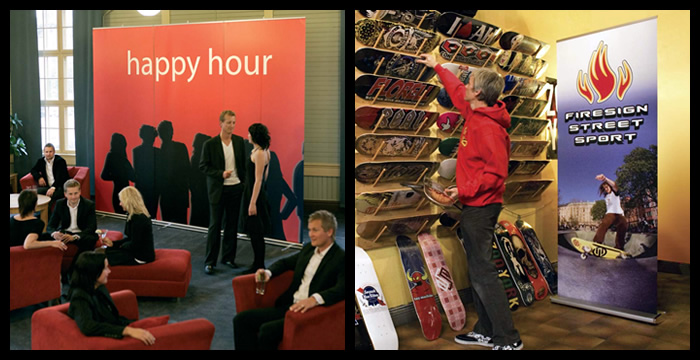 Trade show season is upon us, and we at eGenoa are pleased to share the technological innovations that make your trade show display more dazzling and easier to use. At the top of that list of our customers' favorite tools is the practical retractable banner stand.
Increasing numbers of trade show demonstrators are using retractable banner stands because of their convenience and their space-saving advantages. Not only do these banner stands easily collapse into small, simple-to carry shapes, but they also have proven their durability time and time again when being packed up and moved from show to show. Most of our retractable banner stands come with padded nylon bags both to protect your presentation graphics and to protect you from getting bruised and bumped by bulky transport bags as you move to your space on the trade show floor.
Our lowest priced retractable banner stand is the Messina Budget Retractable Banner Stand, which starts at just $278 and includes all the conveniences for those on a budget. Your graphic display will stand at 33.5"W x 79"H and weighs in at about six pounds, making it easy to transport.

We also carry many other widths and heights that could suit your needs better.
You might decide that the Expand Mediascreen XL Extra Large Retractable Banner Stand is perfect for your needs.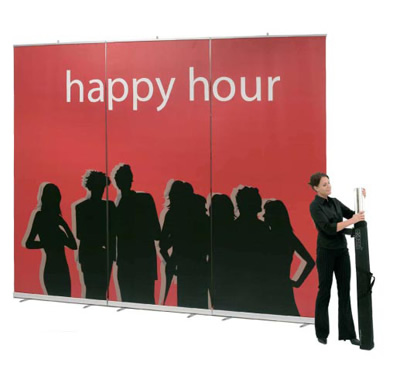 In spite of standing up to 118" tall, no ladders are required to set up this stand. More than that, many find that it only takes about 30 seconds to get the display completely prepared. It is also expandable, and you can hook more than one display together with a simple magnetic fastener. This is perfect for businesses that have a story to tell and want a display that makes it easy for spectators to follow along.
For all our retractable banner stands, we print your artwork in non-curl inkjet graphics for increased visibility, and so the graphics will be straight and stand out. There will be no funneling, curling, or rippling when it comes to your displays, just sleek, professional graphics to spread your message throughout the trade show floor.
And don't forget, eGenoa has all variety of trade show displays to help you be as creative as you can be to stand out in the crowd. Just call the friendly and talented folks at eGenoa to get moving on creating your impressive trade show setup.