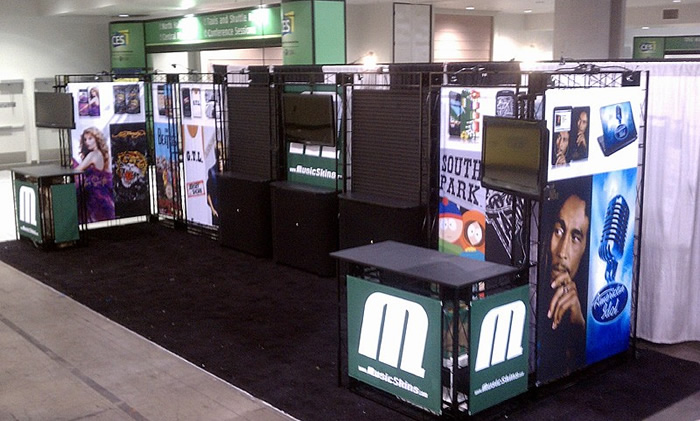 Preparing for a trade show for the first time can be a bit overwhelming. The following are some ideas to assist you in getting ready for the big event.
When deciding on how to present yourself and your products and/or services, you will need to ask yourself a series of questions regarding the trade show you are exhibiting in.
Who is your target customer that will be attending the show?
Where will they best be able to locate your exhibit, and how can you encourage them to visit you?
What type of display will you need?
How can you create an effective and inviting display?
Finally, and most importantly…how will you distinguish yourself from you competitors?
Determining your customer at a trade show
Determining your target customer is the first step in preparing for a trade show. The trade show organizers should have a history of the type of visitors the show has traditionally attracted. They will also be marketing to various groups and people in an attempt to bring attendees through the doors. With this information, you are able to determine how you should present your company and your products and services.
For example, you are a food manufacturer who is exhibiting at a Natural Food Expo, and you discover that most of the attendees are owners of vegetarian markets. Now you can safely determine that it is best to present yourself as a "healthy" food manufacturer, with primarily an assortment of your best vegetarian products ready to show and sample.
Planning your trade show booth size and location
The next step is to decide on a booth space. Where will you be most visible to prospective clients? The show organizers will surely give you a map of the expo listing booth sizes, costs, and suggestions of where your company will best fit in. You can also them where your competitors will be located. Be sure to take note of where the flow of traffic will be, where special presentations will be held, etc. All of these factors are useful when determining which booth space to purchase.
Getting customers to visit you at the show is crucial to your success, so advertising your upcoming exhibit is vitally important. The show organizers should have a list of attendees that you can purchase. With this information, you can reach your potential clients in a variety of ways.
Promoting your trade show booth prior to the event
The most traditional, yet successful modes of communication is through postcards. Send out professional and eye-catching postcards with your company name, the trade show name and date, your booth number, and a visual description of what your company is all about. It is wise to mention on the postcard a show special (like free freight on all orders placed at the show) or a drawing (for an item such as an ipod) to be held at the show. You want attendees to be encouraged to carry that postcard with them to the show, making it more probable that they will remember to visit you.
Another way to reach the attendees is electronically. Send out mass emails mentioning all of the above information. Attach links to your website so that they can better acquaint themselves with your business prior to the show. Finally, make personal phone calls to some of your existing clients, inviting them to visit you at the show. This is the perfect opportunity to introduce your loyal clients to your new products, or maybe to see an item they have been on the fence about in person.
Now that you have invited all of these prospective clients to visit you, you want to have a display to wow them. Usually, exhibitors are provided with a basic table, plain tablecloth, and thin industrial carpet. This basic setup alone is probably not going to dazzle your next customer.
There are many sophisticated trade show displays available at a variety of costs and quality. You will need ask yourself many questions before you shop for the appropriate display.
First of all, what is your budget?
Will you be reusing this display at other shows, or is this a one time event?
Is the trade show local, or are you traveling?
How big is your booth space?
Do you need a booth with shelves to display items, or will visual graphics be sufficient?
Do you need a literature display?
Once you have answers to these questions, you should contact a reputable trade show display expert, such as egenoa.com, to find the perfect solution. A well rounded trade show display company can offer anything from banner stands to custom booths and floors.
Well, now you're at the show and you want to distinguish yourself from your competitors. The first way to do this is to have a booth staffed with trained employees who are inviting and courteous. You want to be sure that you have people who can answer questions intelligently, and can start conversations with the attendees. These conversations will promote sales leads, or even better . . . sales.
You also need to create a welcoming atmosphere. Do not clutter your booth with chairs. Have some open space where you can greet your customers standing up. You want to leave them with the feeling that you are an exciting energetic company, not one that sits around waiting for business to come their way. This isn't to say that you shouldn't ever sit down, as trade shows are notorious for long hours. But, make the rest periods brief, or rotate employees elsewhere for breaks.
The last thing that will set your business apart from your competitors is follow-through. You will be collecting leads throughout the show, either from a lead machine usually available from the organizers, or simply by collecting business cards. Write notes on the back of the cards. Once you return from the show, follow up on the notes, and make some sales!
Press Contacts:
Allison Ferroggiaro
eGenoa
press@egenoa.com
800-258-6164