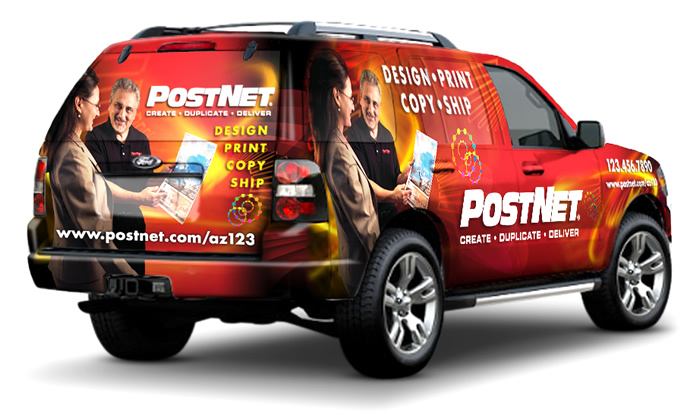 Q: What exactly is a car wrap?
A: A car wrap is a digital color image printed on a vinyl adhesive covering, that is then applied to your vehicle. It is similar to a giant sticker.
Q: Is the same material used on windows?
A: No, the material applied to windows is different. Window Graphics are printed on a perforated vinyl that allows you to see through the rear and side rear windows. State laws prohibit the use of wraps on the windshield, as well as on the driver and passenger side windows.
Q: Does it matter what color my vehicle is?
A: No, the material used is not translucent, therefore you cannot see through it.
Q: What type of vehicles can be wrapped?
A: We are fully trained to wrap cars, SUVs, trucks, box trucks, trailers, buses, and boats.
Q: How long will the wrap last?
A: With proper care, car wraps last approximately 3-5 years for the vinyl and 1-2 years on the window perforation.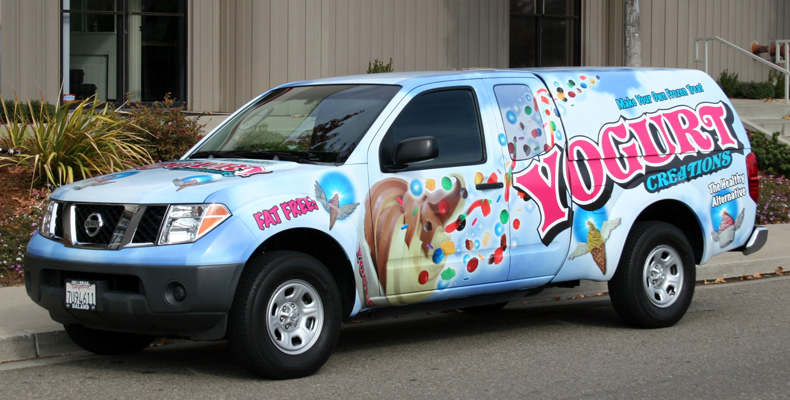 Q: What is the difference between a 1/2, 3/4, and a full car wrap?
A: The size of the wrap (1/2, 3/4, or full) implies the percentage of the vehicle that is covered with vinyl.
Q: Can you wrap plastic or fiberglass?
A: Yes you can. Wrapping textured plastic or fiberglass is not recommended. The wrap will lift and will not adhere properly to these surfaces.
Q: Can GenoaGraphix design my vehicle wrap?
A: Absolutely! We have a creative department that will work with you to achieve the look you desire.
Q: Can I use my own designs for my vehicle wrap.
A: Yes, but there are guidelines to follow for a professional outcome. Please contact us for these specifics.
Q: What happens if I change my information that appears on my vehicle wrap at a later time?
A: Overlays can be produced to reflect the new information. They can then be applied over the desired areas.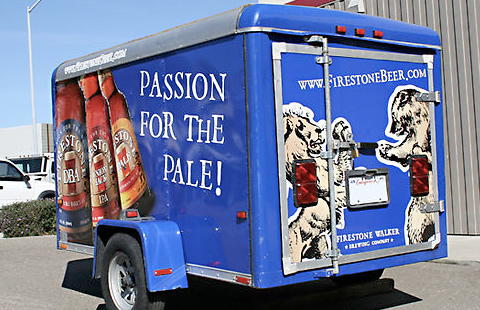 Q: Will the car wrap damage my paint?
A: No. In fact, the vehicle wrap will protect the paint. We use only the highest grade 3M vinyl which will not damage your paint. One note: if you are installing decals only, the area covered by the decal will not fade, but the area left uncovered will continue to fade. There could be a slight discoloration after the decals are removed. This tends to be more pronounced on darker vehicles.
Q: Does the condition of my current paint job matter?
A: Yes, the vehicle's paint job needs to be in good condition. Rust damage under the wrap may cause problems later. Also, loose paint can be a problem in installation.
Q: Can the vehicle wrap be removed?
A: Yes, the vinyl and adhesive can be removed from the car by a professional. If the paint was in good condition before the wrap, there should be no problems with the removal process.
Q: How is the material applied?
A: As a certified 3M installer, we at GenoaGraphix follow strict application guidelines. Using expert technique, the material is "stretched and pulled" over the vehicle using heat and other tools to accomplish a smooth and flat application.
Q: Where do you wrap the cars?
A: Most of our vehicle wraps take place in our fully equipped shop. However, depending on the customer needs and the size of the vehicles, we sometimes perform vehicle wraps on customer location. As a part of the 3M family, we have a team of 3M installers available anywhere in the United States and Canada.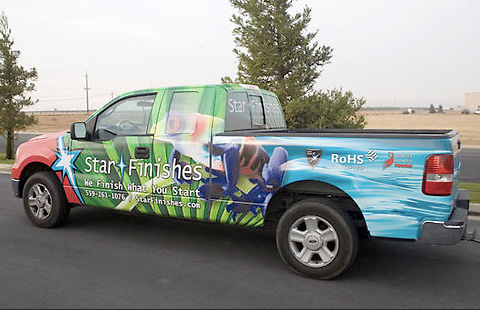 Q: Do I need to have a clean car before I get it wrapped?
A: Yes, your car should be clean and fully dried before arriving for a car wrap.
Q: How long will it take to wrap my vehicle?
A: Most wraps take 2-3 days. This depends on our current schedule and the type of vehicle wrap. Please inquire for specifics.
Q: Will you wrap a leased vehicle?
A: Absolutely! Since the material can be removed, there is no problem in wrapping a leased vehicle.
Q: How do I properly take care of my wrap job?
A: Hand washing your wrapped vehicle is recommended. Avoid power washing and abrasive materials is discouraged. Waxing the vehicle will help with the upkeep as well.
Q: Can I use my rear defroster?
A: No, use of the defroster will damage the material.